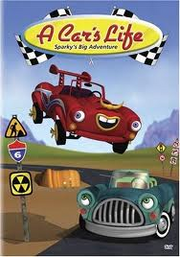 A Car's Life: Sparky's Big Adventure is a mockbuster made by Spark Plug Entertainment. Just like
The Little Cars
and
CarGo
, it was trying to copy the success of Disney/Pixar's Cars trilogy and its spin-off Planes trilogy, produced by DisneyToon Studios. The film is criticised for its poor 3D animation, annoying and unlikeable characters (except most say that Sparky's dad
Fender
is the only decent character), poor voice acting, ripping off a more popular movie, and poor character design.
The film follows the escapades of Sparky, an ugly and obnoxious young car who longs to be independent. However, his father Fender is often worrying about him (which isn't too surprising considering how reckless the little douche is). When they arrive at Fender's gas stations, trouble soon rears its head when Diesel, the widow of Fender's dead brother shows up and proves to be a bad influence on Sparky.
Community content is available under
CC-BY-SA
unless otherwise noted.